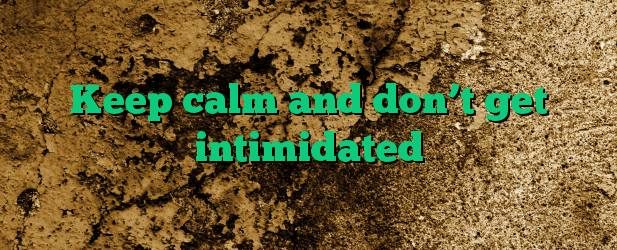 Keep calm and don't get intimidated
Last week I had a great time at a local event. During the preparation time, I've learned that there is no reason to get intimidated.
When dealing with stressed out people you have to keep calm. I was standing guard at a checkpoint, I just took over the position from a colleague the day was very quiet up till then, unloading of the trucks went smooth and delivery stop approached fast. There was a small blockage at the way to the venue, so I had to keep people form driving there.
You really might think people are calm, but not when you don't have much time left for delivery. So I was standing there when a car approached. The driver slowed down and said something about getting to the venue. He was totally stressed out. I tried to explain what was going on and he would have to wait behind a truck already waiting to do delivery. Instead he just drove right to the venue.
Another car approached, the driver was calm and just did as I said, at least until another car approached. So after a short conversation with the driver, I made clear to park behind the other car. I moved on to the next car and didn't even spent another minute thinking about that car. As I've reached the other car, I've turned around and the driver just ignored my clear orders.
That lead to the driver of the first truck, that ignored my orders, came up the hill. He was stressed out and started to shout around. To be honest I wasn't really able to follow what he was saying because he was shouting to fast and to loud to really spent attention to the words.
After a few minutes shouting around he ordered the driver, that was waiting for a car to come out, to start his engine and drive in. So, what do you do to don't make the situation worse for everyone? Just stand in front of a car without the fear of getting run over. The stressed out guy was still shouting around and tried to intimidate me.
After a while a colleague, showed up and actually was able to calm down the driver of the first car. The said car to get out from the venue arrived after a while and everything was able to go on as required.
During the next days the stressed out driver approached me and told me to get a drink at his booth. You could easily get intimidated by him but he totally changed his behavior.
So what happened?
From my observations, I would say he was impressed by my behavior. Many people try to intimidate you, but as long as you keep calm and the person you're dealing with is not totally nuts, you can almost bet on being safe. Keep that in mind while dealing with stressed out people. Let them vent off their steam and try to calm them down. After some time they will realize that what they are doing isn't helping making anything faster.
After he had done his duty he started to relax. He approached me and my colleague, was really friendly and invited us to visit him at the booth.
During the festival I didn't have time to visit him but while starting to clean up the venue he invited me over for a drink and gave me 2 coupons. So I'm going to check out his place Claire's. I think I'll like Sri Lankan Cuisine.
This post is also available in: German